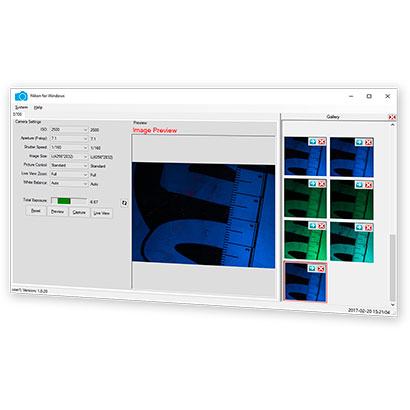 Fully integrated system for complete image processing
FDA Poliview is a forensic image capturing and enhancement system that combines a Nikon D700/D800/D810 DSLR, the Rofin PoliLight PL500/550XL and IMX (Image Extreme) along with other components to create a system that allows users to capture (photographically) exhibits. &reg
COMPONENTS
ROFIN PL500
NIKON DSLR
LENOVO THINKCENTRE
EPSON PRINTER
FILTER SET
COPY STAND
IMX (IMAGE EXTREME)
CCG (COURT CHART GENERATOR)
NCI (NIKON CAPTURE INTERFACE)
USABILITY
Easy accessible components that require minimum reach for utilisation
---
V++
Image enhancement software purpose built for the forensic environment. Improving contrast between ridge detail and the background has never been this easy, incorporating many functions, such as gamma, contrast and brightness corrections and many more.
CCG
Court Chart generation has never been easier – no more arduous work using MS Word, MS PowerPoint or paper, ruler and a red pen. This is automated court chart generation that produces professional fingerprint court exhibits. It produces a complete fingerprint Court Chart exhibit based on the standards and templates set by Clients.
NCI
Facilitates the capturing and authentication of images directly from a NIKON DSLR.
USB connectivity to NIKON DSLR cameras.
Easy to use interface makes advanced macro photography a simple task.
High resolution capturing (photography) of the prints.
Secure user access.
Tightly integrated with VeriData iDem that validates an image to create a "Digital" negative at the point of capture.
CAPTURING PROCCESS