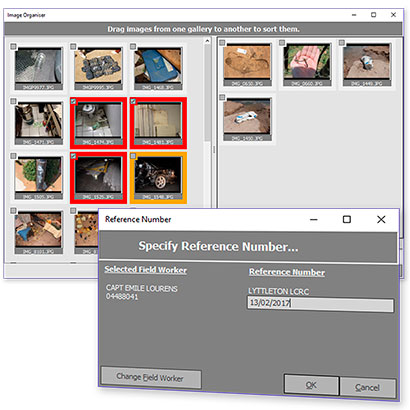 Assisted Image Mangement
Facilitates the downloading and authentication of images from memory devices.
A user friendly and intuitive interface that guides users through the image management process, making it simple and effective.
An effective tool to protect the integrity of digital images.
Images are automatically managed in the relevant folder structures while an audit trail on all actions is recorded.
Easy to set up and configure for multiple fieldworkers and users. Easy to use wizard-based interaction.
Easy to use image galleries catering for multiple cases.
Comprehensive administrator's interface.
Audit trail reports listing all actions performed by users.
Repository of authenticated (digital negative) images.
No computer administrative rights required to operate under normal user usage.
Benefits
Ensures the integrity of digital images.
Intuitive tool that guides users through the process of image management.
Automatic folder management.
Simplified method to create master and working copy images.
Quick, easy and intuitive process to perform Image management with.
Audit trail that keeps track of user actions.
Quality assurance reports
Image Quality Control
Automated quality control measures to identify discrepancies on Images. Some of these are: minimum resolution, file format, maximum image age, date modified vs. date picture taken, Exposure program, ISO, F-Stop, Exposure time, Lens used, Shooting program.
Burning Working & Master Archive
The user is prompted once a week to burn a Master disc and once a month to burn an Archive disc. Easy to select images  related to specific cases and the images burned to a master disc are automatically moved to the Archive folder.
Once a month these Archive images are moved to Archive discs.
Configuration
Easy to use Fieldworker registration function.
Initial memory device pairing with a registered Fieldworker.
Automatic Fieldworker detail retrieval upon subsequent memory device usage.
Memory device mismatch warnings.
Folder Management
Images automatically placed in relevant Fieldworker and case folders.
Image Catagorisation
Easy grouping of images according to reference numbers by means of simple drag and drop functionality.
Integrated with VeriData iDem that validates an image to create a "Digital" negative.
Images are validated in batches based on user defined groupings.